Painting including Will Williams, Veteran for Peace/Vietnam Veteran—along the front of the Wisconsin Vets Museum (30 W. Mifflin Street, Madison, Wisconsin.)

Photos by P.T. McMahon [Heartland Images Instagram ] taken 23 Dec 2020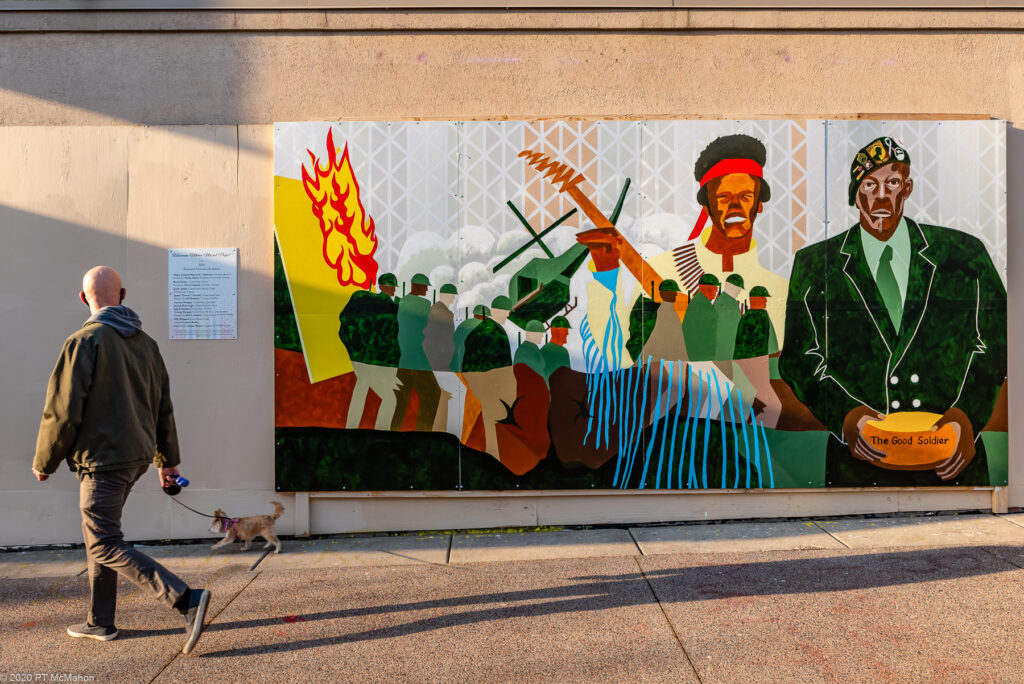 more on Will…
Poser Patriotism is Fake Patriotism
————————————————————————————-
Doug Moe, WI State Journal, 27 Oct 2009
Vet's struggle with Vietnam captured in 'The Good Soldier'
Will Williams had this friend in Vietnam, DeMarchi, and they sang doo-wop together. "We were just tight," Williams was recalling Tuesday. They also went on patrol together, and that's when DeMarchi got hit.

"His brains fell out in our hands when we were moving him," Williams would recall later. He sat with the corpse in a bomb crater overnight. That night has never left him, though Williams was sitting a world away this week, literally and figuratively, sipping from a coffeehouse cup in Fitchburg. He wore a green T-shirt that read: "Veterans for Peace." But here's the thing. It wasn't that awful night that turned Williams into a peace activist. If anything, at first, seeing his friend die did the opposite.

"The more friends that were killed," he said quietly, "the more hateful I became. I became an animal. If I couldn't make a kill it bothered me." It took years, decades really, for Williams to become an anti-war activist. His journey is one of five chronicled in a documentary film, "The Good Soldier," that will play Nov. 11, Veterans Day [2009], at Sundance. Williams will be there to answer questions after the screening.
---
Official Website: The Good Soldier movie
War Stories: 'The Good Soldier' Examines the Cost of Combat