Tammy Baldwin Denies Access to Fundraiser Ticketholders Who Have Been Vocal Against the F-35 Bomber Deployment in Madison
By Amy Anderson, Aug 26, 2021
[pictures & links – bottom]
The latest battle to stop the planned F-35 bomber deployment to Air National Guard's Truax Field in Madison took place at the entrance to Senator Tammy Baldwin's annual summer BBQ fundraiser last Sunday, August 22nd. Held at the picturesque Fields Reserve reception barn on a wooded hill near Lake Kegonsa, some residents came to express their alarm and dismay about the harm to the Madison community that they say the stationing of these jets would bring.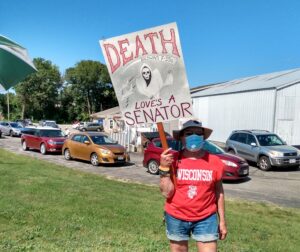 However, several constituents who had paid for entry to the $50-$1000 fundraiser received email cancellations and refunds of their donations from the event staff just one day prior to the event. The seven constituents were all members of Safe Skies Clean Water Wisconsin, a group calling for the halt of F-35s coming to Madison.
These seven individuals came despite the cancellation but were not allowed in as eight security officers and three Dane County sheriff deputies guarded the driveway. So instead they joined the picket organized by the No F35 Action Faction, who brought 35 local residents to picket and pass out flyers. Donors attending the event waited in lines in their cars, sometimes for 15 minutes or longer while a single event staff person checked tickets against a list of names to determine if each passenger was on the approved list for entry.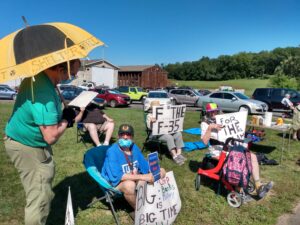 One of the most vocal members denied entry was Tom Berman, a northside
homeowner for 37 years who has also operated a small business there for 32 years.
He expressed desperation that his beloved home and place of business will be
officially condemned as being within an "uninhabitable" zone once the F-35 jets
arrive and the frequent practice drills begin.
He quotes the Air Force's Environmental Impact Statement that there are already 6222 sorties planned each year for the F-35s once they arrive in 2023. This is a 27% rise over current flights from Truax Field. He explained that the noise levels from takeoff of F-35s are traumatic to humans and more than four times louder than the F-16s which currently regularly practice over Madison's east and northside.
David Williams from the No F35 Action Faction called the blacklisting of Madison residents from the event a sad but unsurprising disappointment in light of the Senator's continued stonewalling against the growing voices from her own hometown against this deployment. "Our original picket slogan was We should not have to pay to be heard. But now we realize that even for those purchasing a ticket, we still don't get to be heard."
Mr. Berman reports that after the event was over Senator Baldwin did stop and let him give her his letter on her way out, saying she would have one of her staff get back to him.
The Safe Skies and Action Faction groups have been working for over two years to raise public awareness and to pressure Senator Baldwin, who has been a supporter of deploying F-35s in Madison rather than a sparsely populated area where it would be easier to mitigate the impacts.
Objections to the F-35 deployment include:
regular traumatic and unhealthy noise levels for Madison residents
the expense and hardship of relocating multiple Madison residents
decrease in property values for east and northside residents
impacts will affect low-income and minority populations the most
increase of PFAS "forever" chemicals commonly used in firefighting drills at Truax which  have already contaminated local waterways and many municipal wells
the well-documented dubiety of the F-35s as a military investment
the danger of bringing these nuclear-capable planes to Madison
the escalation of out-of-control military spending and endless war
Find Safe Skies Clean Water Wisconsin and sign up for updates.
Like  No F-35s Action Faction on Facebook, and they welcome people to join the cause.