Originally posted on Madison.com.
Madison's Veterans Hospital will hold a town hall meeting at 6 p.m. Sept. 23 for veterans, families, staff and the media.
"This will be a great opportunity for veterans to hear directly from hospital leaders about issues that concern or affect them," according to an announcement this week on the hospital's Facebook page.
An audit in June found new patients waited an average of 51 days to see a primary care doctor at the Madison VA. They waited an average of 24 days in Milwaukee and 17 in Tomah.
The VA has a 14-day target for wait times. Veterans in other states have died while waiting for care , leading to nationwide review.
The Madison VA hospital had a "significant increase in patient demand" and vacancies in primary care provider positions, resulting in the long wait for new patients, spokesman Tim Donovan said. The providers have been replaced or are being replaced, Donovan said.
In the 2013 fiscal year, patients made 1,404 complaints to the hospital's patient advocate office, he said. Of those, 261 were concerns about the timeliness of access to care and 302 were about other aspects of patient care, he said.
More than 40,000 veterans were cared for in fiscal 2013 at the hospital and its clinics in Baraboo, Beaver Dam, Janesville, Madison and Freeport and Rockford, Illinois. They accounted for nearly 400,000 outpatient visits.
June 19, 2014 2:45 pm  •  By Jessie Opoien | The Capital Times
Local members of Veterans for Peace gathered Thursday to voice concerns about the "massive under-funding, massive under-staffing and effort to privatize" the Veterans Administration that they said has been occurring for the last 15-20 years.
The VA currently enrolls 9.1 million of the estimated 21.6 million veterans living in the U.S.
WKOW 27: Madison, WI Breaking News, Weather and Sports
MADISON (WKOW) — Volunteers began setting up the annual Memorial Mile in Madison Saturday.
The tombstone display is in memory of U.S. soldiers killed in Afghanistan and Iraq, recognized every year for Memorial Day weekend.
Members of Veterans for Peace and other volunteers put up nearly 6,800 tombstones along Atwood Avenue at Olbrich Park.
"We've lost 6,800 service personnel in Afghanistan and Iraq and what we want to do is show for the next week tombstones that represent those Americans who have been killed in those wars," says coordinator John Fournelle.
The display stays up through Memorial Day until next Saturday.
Chapter 25 will again erect the stunning Memorial Mile in Olbrich Park, Madison, along Atwood Avenue. This impressive and disturbing mile of over 6,000 tomb stones is in memory to the US soldiers whose lives were lost in Iraq and Afghanistan. Since the first mile was erected in 2007, the chapter has received constant positive feedback from those who observe the mile by walking the sidewalk or even while driving by. The mile is erected by volunteers led by Chapter members. Starting at 9am Saturday, May 24, 2014, the mile will take about two hours to install. It will remain in place until Saturday, May 31 when volunteers will remove the display.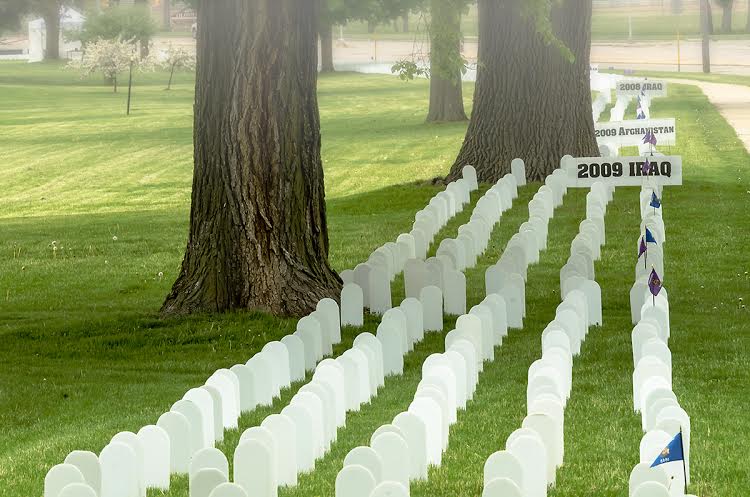 Madison Veterans for Peace will hold its annual Peace Rally at James Madison Park on Memorial Day.
The program begins at 1pm with musical selections from the band Old Cool.
The featured speaker is Nicole McCoy, U.S. Marine, who will speak on "Sexual Abuse and Rape in the Military"
Nicole McCoy is a 24 year old Marine Corps Veteran from Colby, WI. After joining the Corps in 2008 she was stated in Albany, GA where she deployed to Afghanistan. During her enlistment, she had experienced multiple assaults and rapes. During on investigation she was lied to about requirements for the sex offender registration, which eventually lead her to start the first and largest petition against the Military. Her petition was featured in Rolling Stone Magazine, Glamour Magazine online blog, interviews with Oprah, and Dan Rather. Nicole's petition is asking for requirements to be changed when it comes to Military Sex Crime convictions, and asking for discharge papers to disclose any punishments one might have received while in the Military. Her petition has received just under 1/2 of a million signatures and still growing.
This years $1200 Madison High School Scholarship to attend Madison College will be awarded to Shamell Long'Homesly during the program.  Shamell is a student at Malcom Shabazz City High School and the winner of the 2014 James Allen Memorial Peace Scholarship.  (See more on scholarships from Chapter 25)
We hope you can join us at the park. In the event of rain, the program will be moved inside the Gates of Heaven facility at the park.

Thanks Steve Bray
- for standing up at the
Solidarity Singalong
- and getting your citation (and handcuffs) again.
Great photo!
http://host.madison.com/wsj/news/local/govt-and-politics/a-year-later-no-end-in-sight-for-capitol-crackdown/article_d9421fee-6ba1-544d-b5cb-91ff6c4e6fb5.html
…and thanks to Norm Aulabaugh, too – for his great letter to the editor in the Capitol Times – talking about Veterans – and the right to free speech.
http://host.madison.com/ct/news/opinion/mailbag/norman-aulabaugh-veterans-offended-by-arrest-of-capitol-singers
More thanks to Norm Aulabaugh his article on A Nation's PTSD
http://host.madison.com/ct/news/opinion/mailbag/norman-aulabaugh-veterans-offended-by-arrest-of-capitol-singers
Let us know what you've been working on, what's on your mind, or what you'd like to share. Don't be a stranger… Let's talk!
We want to hear from you, feel free to comment on our blog postings.
Stay in touch – be sure to subscribe to our updates – you will receive an email every time we post something new.
Veterans for Peace, Inc. (VFP) is a national non-profit 501(c)(3) educational and humanitarian organization dedicated to the abolishment of war. The Madison Chapter is named in honor of Clarence Kailin, long-time Madison peace activist and social reformer, who was a founding member. Clarence died in late 2009 at the age of 95. We honor him by carrying on his name and making efforts to establish a more peaceful and just nation.
%%anc%%