Madison's annual commemoration of the atomic bombings of Hiroshima and Nagasaki.
Where: Tenney Park Shelter, Madison (East Johnson St. at the Yahara River. Enter from Sherman Ave.)
When: Thursday, August 7th, 7PM to dusk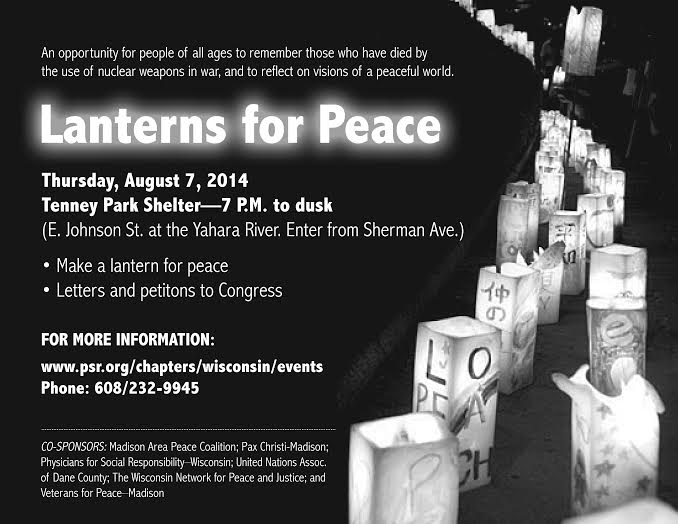 Join us for Lanterns for Peace at the shelter at Tenney Park in Madison. We will decorate peace lanterns to float in the lagoon and fold origami cranes to reflect on the lives of those who have died in war. There will be opportunities to contact your legislators to support nuclear weapons abolition. Refreshments will be served. We'll have a short program at 7:30 PM and float illuminated lanterns in the Tenney Park Lagoon at dusk, around 8:40 PM. Please join us!
For more information go to www.psr.org/chapters/wisconsin/events or contact Physicians for Social Responsibility Wisconsin, at info@psrwisconsin.org or call 608/232-9945.
Co-sponsors: Madison Area Peace Coalition, Pax Christi Madison, Physicians for Social Responsibility – Madison, United Nations Assoc. of Dane County, the Wisconsin Network for Peace and Justice, and Veterans for Peace – Madison.