Chris Hubbuch | Wisconsin State Journal 
useful links:
Dane County Board of Supervisors
Contact other elected officials – Safe Skies Website
"With its strip malls, auto repair shops and used car lots, the stretch of East Washington Avenue between Aberg Avenue and Stoughton Road shows no signs of the revitalization happening a couple of miles to the west, near Downtown.
That could soon change with the addition of a planned bus rapid transit system.
Bill Connors, who heads a coalition of real estate developers, envisions three- and four-story buildings with ground-floor retail stores below apartments, much like those that have sprung up on the Isthmus.
City plans call for high-density housing that would both provide equitable access regardless of income and support a new bus rapid transit (BRT) system that's expected to begin shuttling commuters between the city's East and West sides in 2024.
But with the Air National Guard expected to begin flying a fleet of new F-35 fighter jets from nearby Truax Field in 2023, this ¾-mile strip is expected to be subject to noise levels considered too loud for residential development without significant soundproofing.
The conflict has created a dilemma for leaders of a fast-growing city in desperate need of more housing: By allowing the type of high-density development that would support rapid transit, Madison could also subject thousands more people to unhealthy levels of noise.
Connors argues the market will solve the problem, as builders who don't do enough to muffle the sound will struggle to keep their buildings full.
City Council president Syed Abbas has appointed a council workgroup to explore possible alternatives, including a development moratorium or zoning changes, in an effort to prevent a situation where poor and minority people bear a disproportionate share of the environmental impacts.
"I have to see the situation with the lens of environmental justice," Abbas said. "If you go historically, the market decided to put all the people of color there — Black and brown folks."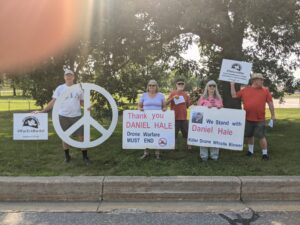 Military decision
There is disagreement on just how much louder the F-35s will be compared to the F-16s that currently fly out of Truax. But there would be more takeoffs and landings, at least initially, which would increase the overall noise exposure for those living near the airport.