"Whenever I was in the presence of Dot Williams, I felt welcomed. She invited us
into her home with love and happiness. Her food was good, her conversations
were engaging and she was truly a gem in the Black community," says Betty Banks, a lifelong Madisonian and executive director of Today Not Tomorrow, Inc. (Club TNT). "Dot loved her family and her community. She supported the work that we did and we were
appreciative. Hers was a life well-lived. She will be missed."
Dorothy "Dot" Williams, a matriarch in the Madison community for more than five decades, passed away peacefully on the morning of Jan. 15 at the age of 89. Living a good portion of her life in the segregated Deep South, Williams has spent the last five and a half decades in Madison, where she was well-known for her kindness and generosity, along with her activism and empathy, and she made an impression on many.
"She died on Dr. Martin Luther King Jr.'s birthday. I thought about how appropriate that was. It was the day he was born and the day God took Dot," husband Will Williams tells Madison365.
Williams says that his wife "just loved people."
"She had her own ways; a lot of people may not have understood her, but everything that she did was out of love," he says.
"She did a lot of things under the radar that people didn't know. She used to cook a lot for fundraisers for MAPC [Madison Area Peace Coalition] and for Club TNT's [annual Waterbearer] Awards Ceremony. She would do all of the food and she was a great cook. She would do anything for people," Williams continues. "Sometimes people would pass away and even if she didn't really know them, she would prepare food for them and their families. It was just her way."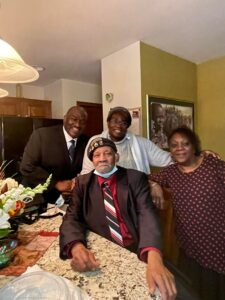 …more…
"I hope that people in Madison and beyond remember her as a sweet and caring person that would go out of her way to help people."
– Will Williams
Article and photo credits look to David Dahmer, Publisher and Editor-in-Chief of Madison365.